Discover the secret to looking 10 years younger
Youthful-looking skin
Strong hair 
Healthy bones, ligaments and joints
Powerful antioxidant effect 
⚠️ Aktuelle Verfügbarkeit:
Begrenzter Lagerbestand
⚠️ Risiko eines Ausverkaufs:
Groß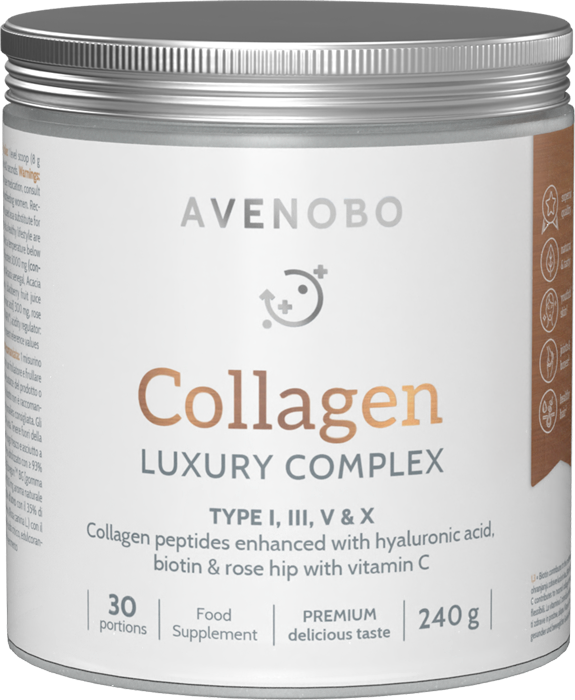 Available in these packages:
30-day satisfaction guarantee
You can try Collagen Luxury Complex completely risk-free. If it doesn't convince you in the first 30 days, simply return the empty box it came in and we'll give you your money back. We have complete faith in our products and your satisfaction is extremely important to us.
There's always some risk involved when trying something new and that's why our products all come with a satisfaction guarantee.
Can Luxury Collagen be used in combination with other supplements?
Luxury collagen is completely safe to take so it shouldn't be a problem to include it in your daily routine and combine it with other dietary supplements.
Can I take Collagen Luxury Complex for a longer time?
Yes! It's actually recommended to take collagne daily since that allows the collagen in your body to build up and be used in the areas which need it the most. This way the results can remain constant.
Is collagen suitable for men as well?
Of course! By no means is collagen a woman-specific supplement. Since it's not only good for your hair and nails but also supports joints and tendons, it's used widely by athletes all over the world.
Is your product high in sugar and calories? I'm trying to lose weight.
No, our product contains only natural flavourings and contains only 26 kcal per serving.
Are your products made in Europe?
Yes, all our products are made in the EU and adhere to the highest EU standards.
What if I'm not happy with the product?
We have a 30-day satisfaction guarantee so if you don't notice any positive effects in the first 30 days, just send us back an empty box and we'll give you your money back!
How do I take Collagen Luxury Complex?
You can either mix it in with some water or add it to your favourite smoothie. For optimal results, it should be taken daily.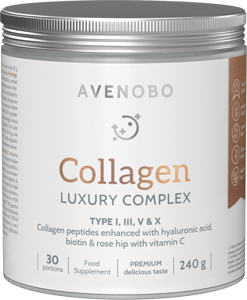 Collagen Luxury Complex
Highest-quality hydrolysed collagen type I, III, V and X. 100% pure natural product made in the EU.
Collagen is the most prevalent protein in the body and is essential for maintaining youthful-looking skin, healthy joints, and beautiful hair.
Collagen Luxury Complex is produced in accordance with the strictest European and pharmaceutical standards
Our products are all made in the EU, follow strict EU standards and are in compliance with pharmaceutical food safety management systems GMP and HACCP. Transparency is important to us as well: all our ingredients are sourced from reliable traceable suppliers and our product lines come with a purity and microbiological integrity guarantee.